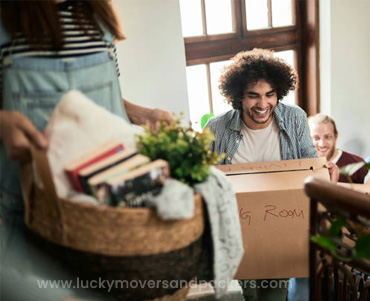 Are you planning to relocate your business? Moving business or office may have many reasons, might the current place be not suitable to the business, a business owner may want to move to the central market to increase revenue, or maybe the new location is specialized for his specified business. Whatever is the reason, it's appreciable because migration is always believed advantageous. But the question raises how you are going to move your office? You are thinking of doing it yourself with the help of employees? It's going to be a stressful process. There are several things that the owner must sort out and accomplish before moving.
Thorough preparation and planning are required to perform the whole process successfully. You need to hire a moving company. A moving company can professionally move your office without creating any stress. Because moving office is already a risk-taking decision for a business owner, so the owner shouldn't take the stress of the relocation process as the facility of the moving company is available to serve.
Al-Ain is a city on an island in the Arab Emirate and the largest island in the state. Al-Ain is also known as Garden city. Because of its greenery is it developing as visitor's first choice nowadays. Therefore, the city is becoming favorable for developing or moving business there. There are various moving companies running in the state of UAE. Lucky movers and packers are one of the top-ranked moving companies in the UAE. We are well known because of our professional way of dealing. We are always performing our job on time and serving our customers on the doorstep. Besides these qualities, Lucky movers are well equipped with the latest vehicles and packing materials to provide you possible best services. We hire professional staff with their specialized field experience. Lucky movers and packers upgrade the skills of our staff members by arranging training workshops frequently. Moving office needs some of the strategies to keep it right. Security of documentation while transporting, on the other hand, the safety of official equipment matters a lot to us on behalf of our delightful customer. We ensure your privacy and the best packing of your belongings.
Lucky movers and packers in Al-Ain servers' customer locally, Al-Ain to Dubai, Al-Ain to Abu-Dhabi, other cities of UAE and internationally. Even we are top-rated international mover and packer in UAE. We suggest you choose Lucky mover for moving the office to or from Al Ain in UAE.
Specialties of Lucky Mover and Packers:
Reliable Packing:
Lucky packers and movers do have a team of sufficient staff with high field experience. We classified our staff members into different groups according to requirements, their experience, and knowledge. Then we keep them train through workshops and practical work to make them professional. Packing is one of the basic steps in the moving process. Lucky packers and movers are aware of the sensitivity of the packing process in the shifting offices. Adding, while packing office belongings we need to categorize them. Documentation, office furniture, and office equipment. Documentation held massive importance in all three categories.
Lucky packers take care of all privacy elements even while unloading to destination. We do pack all documents in sealed packs and place them in specialized lockers of the loading trucks.
Second most important items to pack are office equipment. Office equipment includes computers, printers, cables, and a lot of other electronics, etc. All Part of computer is to be packaged separately. We pack the screen in double packing i.e bubble packing first and thermopol packing. Moreover, cables need more attention of us while packing. Unplug all cables from equipment and pack them right away separately. Data need to be copied to prevent any loss.
Before loading furniture it is recommended to disassemble the furniture. This way we can have two advantages: firstly, it keeps the furniture safe from damage. Secondly, it reserves less space in the vehicle. Office furniture is a bit less heavy furniture to pack, load, and carry. We pack furniture in polyethylene sheets in order safe from scratch and huge pieces are place carefully too.
Moreover, we do label every box during packing which favors the customer while the unpacking process. Labeling and ledger making help customers keep track of their goods. It will not let you miss any item. While adding to the packing of lucky packers and movers we use the upgrade method to serve customers. We use different kinds of boxes to meet exactly the requirement of customers. We are having Paperboard Boxes, Corrugated Boxes, Plastic boxes, Rigid boxes,
Chipboard packaging, Polybags, and Foil sealed bags. We believe when packing is secure and ensured there will be smooth transportation.
Transportation
Transportation is another critical stage in the process, but lucky movers ensure to make it smooth for their customers. We are available with many trucks and other loading vehicles. Customer's valuable goods are supposed to be transported through specialized cube trucks. While moving a business document are considered most valuable content of office. To make office movement decisions successful in a new location, documents are supposed to transport safely. Documentation not only needs to be safe but secure and private too. For this kind of customer's precious belonging, we designed cube trucks which are containing specialized lockers. Electronic equipment and furniture are load into trucks carefully and unload on the doorstep of a new destination. We never delay transportation being one of fastest mover and packer our customer finds us in time always.
Security and safety.
Lucky movers ensure your possible security. While packing vehicles we also take care to save goods from rain, wind, and dust.
Quality maintenance:
To keep a check on the quality of services by our team and the quality of packing material plus vehicles Lucky packers and movers maintained a team of experienced members. This team keeps all things up to mark whether it's about services or equipment. They never compromise to quality, because it affects company's name and ranking which we earned in years.
Guide:
An additional thing lucky mover does is providing a guide to customers to follow while moving business to prevent any trouble.
Customer's satisfaction:
Lucky Mover and packer' focus is customers satisfaction. So, their reviews matter a lot to us. Therefore, we try to serve our customers to an extraordinary level.
PROJECT DETAILS
Client

Abdul Hadi

Live Tracking

Relocation

Deliverables

August 13, 2021

Date

May 22, 2021

Location

Dubai, UAE